Back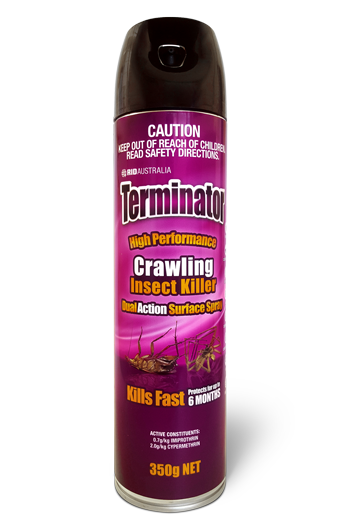 KILLS FAST. PROTECTS FOR UP TO 6 MONTHS
Dual Action Surface Spray kills crawling insects when sprayed either directly in the direction of OR onto the insect and protects for longer periods, because it leaves an insecticidal film that controls insect pest as they crawl over the surface.
PEST CONTROL FOR:
Spiders, Clothes Moths, Silverfish, Ants, Cockroaches, Fleas, Carpet Beetles and Bed Bugs
Shake can well before using. Keep can as upright as possible and hold about 15-20cm from the surface. Avoid using on plastic surfaces. Treating surface with RID Australia Terminator High Performance Crawling Insect Killer Dual Action Surface Spray kills fast protects for up to 6 months will kill and protect against a large range of crawling insects.

For direct kill: Spray in the direction of the crawling insect.

Spiders: Spray where cobwebs appear.

Clothes Moths: Spray storage areas and in emptied drawers and wardrobes.

Silverfish: Spray architraves, bookshelves, and other areas where paper is stored.

Ants: Spray around garbage bins and food disposal areas and entry points.

Cockroaches: Spray skirting boards, under cupboards, behind stoves and refrigerators and other places where cockroaches live and hide.

Carpet Beetles: Lightly spray carpets, under lounge chairs and along skirting boards.

Fleas: Treat infested rooms by thoroughly spraying carpet (ensuring adequate ventilation). Keep room closed for 4 hours, then air thoroughly.

Bed Bugs: Lightly spray around bed, bed frame and other locations close to sleeping area.

NOT TO BE USED FOR ANY PURPOSE OR IN ANY MANNER CONTRARY TO THIS LABEL UNLESS AUTHORISED.

PRECAUTIONS: EXTREMELY FLAMMABLE. KEEP OUT OF REACH OF CHILDREN. PRESSURISED DISPENSER. DO NOT SPRAY ON A NAKED FLAME OR ANY INCANDESCENT MATERIAL. KEEP AWAY FROM SOURCES OF IGNITION – NO SMOKING. Do not spray directly on humans, pets, exposed food, food preparation areas or food utensils. Do not spray towards faces. Avoid contact with eyes and skin, and wash hands after use. Remove or cover fish tanks before spraying. Care should be taken with fabric and furnishings. Do not spray on painted surfaces.

BEWARE: DELIBERATELY SNIFFING OR INHALING CONCENTRATED SPRAY CAN BE HARMFUL OR FATAL. SPRAY IN A WELL-VENTILATED AREA.

SAFETY DIRECTIONS: May irritate eyes and skin. Avoid contact with eyes and skin and do not inhale spray mist, wash hands after use.

FIRST AID: If poisoning occurs, contact a Doctor or Poisons Information Centre. Phone Australia 13 11 26, New Zealand 0800 764 766.

STORAGE & DISPOSAL: PROTECT FROM SUNLIGHT AND DO NOT EXPOSE TO TEMPERATURES EXCEEDING 50oC. KEEP IN A COOL PLACE OUT OF THE SUN, AND OUT OF THE REACH OF CHILDREN. DO NOT PUNCTURE OR INCINERATE THIS CAN EVEN WHEN EMPTY. Dispose of can by putting in garbage, or leaving it in an appropriate metal recycling collection point.

PROPELLANT: HYDROCARBON: The propellant is the chemical that forces the contents from the aerosol container when the valve is opened. CFC Free.

Approved by the Australian Government Authority, Australian Pet & Veterinary Medicine Association (APVMA). Recyclable. Refer to www.terminatorpest.com.au for MSDS Information.

BE SAFE WITH AEROSOLS

GENERAL SAFETY PRECAUTIONS: Aerosols have been used and stored safely in homes for over 60 years. There are very few aerosol accidents and those that do occur are usually caused by not following the instructions on the product label or deliberately misusing or abusing products. Aerosols are safe because of the care the industry takes in the design, production and testing of aerosols. They are tested at elevated temperatures and under extreme pressures so they can cope with unexpected conditions.

Many aerosols contain gases and liquids that may be flammable near a fire or heat. They also contain contents under pressure. This pressure increases with heat and may cause the can to burst.

To enjoy the many benefits of aerosols, always carefully read and follow the label instructions. In case of an emergency, always dial 000.

AEROSOLS ARE PRESSURISED SO PLEASE REMEMBER:

Do not put aerosols on a bonfire, even when they are empty because they will explode and may cause injury.
Do not pierce aerosols, even when they are empty, because there is always some pressure, and possibly some of the product left. It may be flammable or cause injury if you pierce the can.
Keep aerosols out of the sun and in a cold dry place away from heat. The pressure inside the can increases greatly in the heat and may cause it to burst.
You should never keep aerosols inside cars because even in winter, temperatures can rise quickly.

AEROSOLS CONTAIN A CONCENTRATED PRODUCT SO:

You only need to use them in short bursts unless the instructions say otherwise.
If you are using them in a confined space, like a cupboard or under the sink, two or three second bursts should be enough. Make sure that you open windows or doors afterwards.
Do not spray aerosols near your eyes as the contents may irritate them.

AEROSOL ABUSE:

Volatile Substance Abuse, often called "sniffing" or solvent abuse, is extremely dangerous and can kill instantly. Some young people do this to get intoxicated on the fumes of these products. The wide range of products which are abused are readily available in the homes and shops. They include:

Butane lighter fuels
Aerosols
Adhesives.

Advice is available from Australian Government National Drug Campaign.